Follow these steps to determine what to do if you find stray kittens.
Are the kittens visibly dirty, cold, underweight, sick or injured?
YES – Bring them to your county shelter or the closest veterinarian, immediately.
NO – Their mother is likely taking great care of them and out hunting for food. Estimate the kittens' age by what they look like.
Eyes still closed or just beginning to open: 1–2 weeks old.
Eyes open and alert, becoming mobile: 2–4 weeks old.
Very mobile and often talkative, can eat food: 4–6 weeks old.
Very active and playful, around 1–2 lbs: 6–8 weeks old
Very active and playful, around 2 lbs or more: 8+ weeks old.
At 2 weeks old, kittens will be nursing every 4-6 hours. Mom will begin weaning them at 4 weeks and by 8 weeks, they should be fully weaned.
Can you see the nest or hiding spot?
YES – Gently return the kittens to the nest where the mother will provide care.
NO – If the kittens are in danger (near a busy road, out in the open where predators may find them, etc.), move the kittens to a safe space and watch from a distance.
The kitten's best chance of survival is with mom, especially for kittens under 4 weeks old. When waiting for her return, distance yourself so she cannot see or smell you.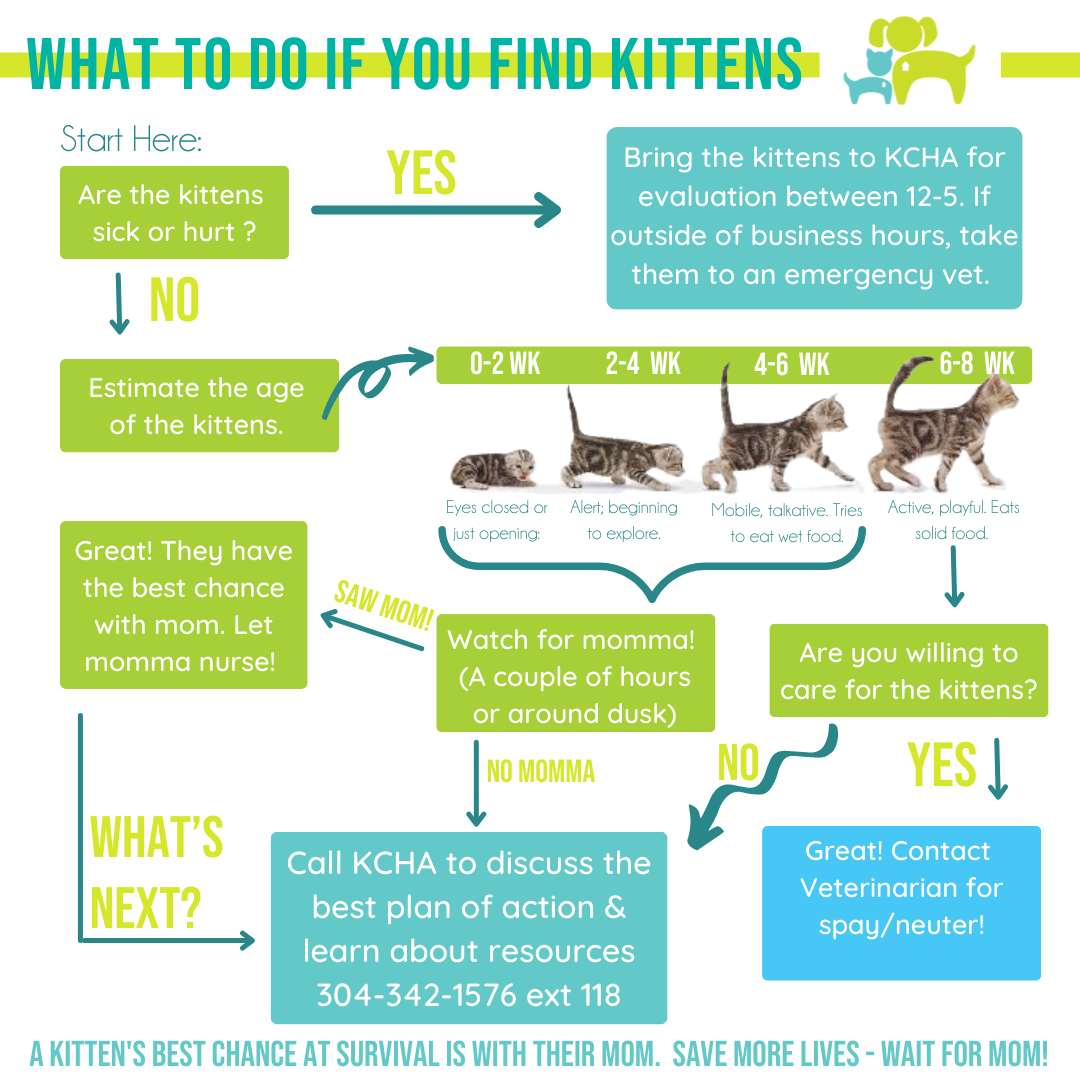 Click and save image to share with your networks.
And don't forget, wherever there are kittens, there are cats! Always work to sterilize the local community cats in order to prevent future births.
If the mother cat doesn't return after 6+ hours, are you willing to temporarily care for the kittens?
YES - Great! If these kittens were found in Kanawha County, reach out to [email protected] to let us know. Our vet staff will examine the litter and give you supplies and instructions.
NO - Please reach out to our Admissions Department at 304-342-1576 ext 118 or email [email protected] - or reach out to local rescue groups.
For detailed information about caring for underage kittens, check out KittenLady.org.